Greetings, Fulci fans,
Yesterday, Severin Films announced that they would be releasing Luci Fulci's 1986 Italian erotic thriller The Devil's Honey (a.k.a. Il miele del diavolo, 1986) on Blu-ray on September 26th.  Quickly, thereafter, they detailed a special Devil's Bundle, which includes a limited edition NSFW slipcover, as well as an enamel pin, featuring the likeness of director Fulci.  Below is the full description of the disc specs and limited-edition extras.  Check it out: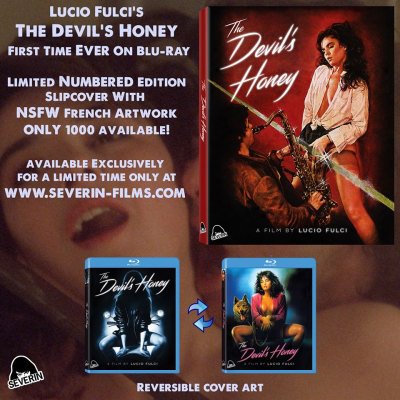 THE DEVIL'S BUNDLE:
THIS LISTING COMES WITH THE LIMITED EDITION SLIPCOVER (LIMITED TO 1000) PLUS LUCIO FULCI ENAMEL PIN (COURTESY OF PSEUDO LUDO).
Lucio Fulci's Extreme Erotic Shocker Now Uncut, Uncensored & Restored For The First Time Ever In America  
Severin Films honors the Euro-Horror gods by offering up a lesser known masterwork by genre stalwart Lucio Fulci. Open wide, because THE DEVIL'S HONEY is dripping onto home video in a sweeter form than ever before, bursting with the robust flavors of perversion and degeneracy that only sinners with the most refined palates will be able to truly appreciate. Each copy of the movie comes with reversible cover art, and a limited, numbered edition slipcase (only 1000 units) with alternate artwork will be available exclusively from the Severin webstore.
In perhaps his most rarely seen film, Godfather Of Gore Lucio Fulci takes on the erotic thriller genre and unleashes the ultimate onslaught of glossy depravity: Brett Halsey (DEMONIA, THE RETURN OF THE FLY), Corinne Cléry (THE STORY OF O,MOONRAKER) and Blanca Marsillach star in this insane S&M saga complete with sodomy, torture, torrid romance, rampant nudity and a jaw-dropping cavalcade of kink that Beyond Terror: The Films of Lucio Fulci calls "Demented and hot…good sleazy fun and perhaps Fulci's last truly enjoyable film." Stefano Madia (BODY COUNT), Bernard Seray (HELL OF THE LIVING DEAD) and Fulci himself co-star in this skintastic sickie – also known as DANGEROUS OBSESSION – newly scanned from the original negative and transferred in HD for the first time ever.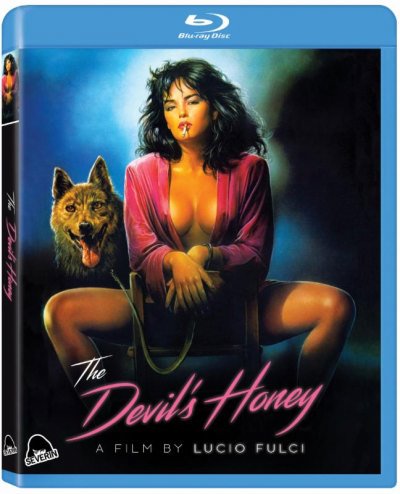 Special Features:
The Devil's Halsey: An Interview with Actor Brett Halsey
Wild Flower: An Interview With Actress Corinne Cléry
Producing Honey: An Interview With Producer Vincenzo Salviani
The Devil's Sax: An Interview With Composer Claudio Natili
Stephen Thrower on The Devil's Honey
Fulci's Honey: An Audio Essay by Troy Howarth – Author of "Splintered Visions – Lucio Fulci And His Films"
Alternate Opening
Trailer
Pre-Order Available Now!
Devil's Bundle Blu With Limited Slip Case & Pin – $32.00
Devil's Honey Blu with Limited Slip Case – $22.99
Devil's Honey Blu Only – $19.99
Devil's Honey Pin Only – $12.00
Devil's Honey DVD – $17.99