Olive Films announced that they will add two more limited edition Blu-rays to their Olive Signature line on December 5th — Max Ophüls' Letter from an Unknown Woman and Elaine May's dark comedy A New Leaf.  The titles are limited pressings of 3,500, so don't delay if you want to add them to your collection!
The Blu-rays are stacked with special features.  Here are the full details from Olive Signature's press release: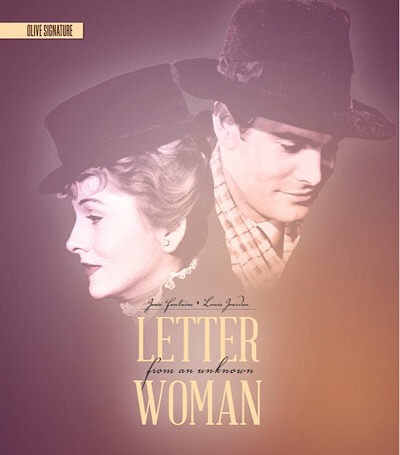 LETTER FROM AN UNKNOWN WOMAN (1948)
OLIVE SIGNATURE FEATURES
Mastered from new 4K restoration
Audio commentary by Max Ophüls expert Lutz Bacher
"A Deal Made in a Turkish Bath" – interview with Oscar-winning documentarian Marcel Ophüls
"An Independent Woman: Changing sensibilities in a post-war Hollywood" – interview with Professor Dana Polan
"Ophülsesque: The Look of Letter from an Unknown Woman" – with cinematographers Ben Kasulke and Sean Price Williams
"Letter from An Unknown Woman: Passion's Triumph" – visual essay by film scholar Tag Gallagher
Essay by critic Molly Haskell
From Max Ophüls, the legendary director of such film classics as The Earrings of Madamede… and Lola Montès, comes a timeless tale of love and obsession. In Vienna during the early 20th century, Stefan Brand (Louis Jourdan, Gigi), a concert pianist whose amorous ways have eclipsed his musical talent, is preparing to flee the city on the eve of a duel to be fought over a recent dalliance when he receives a Letter from an Unknown Woman. Moved by its contents, he'll come to realize that the author is not a stranger, but Lisa Berndle (Joan Fontaine, Rebecca), a woman he's known since her youth and discarded as he has so many others before her. But this time, Stefan's cavalier behavior will have tragic repercussions.
Featuring the master filmmaker's trademark gliding camera, baroque imagery and lush atmospherics (courtesy of cinematographer Franz Planer, The Big Country; art director Alexander Golitzen, Phantom of the Opera; set decorators Russell A. Gaussman, The Strange Affair of Uncle Harry and Ruby R. Levitt, Chinatown), Max Ophüls' Letter from an Unknown Woman, based on Stefan Zweig's novella of the same name, is written for the screen by Howard Koch (Casablanca) and produced by John Houseman (They Live by Night).
JOAN FONTAINE (Rebecca, Suspicion, Ivanhoe)
LOUIS JOURDAN (Gigi, The Swan, Three Coins in the Fountain)
MADY CHRISTIANS (Heidi, Address Unknown, All My Sons)
MARCEL JOURNET (Elevator to the Gallows, Adventures of Captain Fabian, To the Ends of the Earth)
ART SMITH (Caught, In a Lonely Place, Mr. Peabody and the Mermaid)
CAROL YORKE
Directed by MAX OPHÜLS (Caught, Lola Montès, The Earrings of Madame de…)
YEAR: 1948
GENRE: DRAMA
LANGUAGE: ENGLISH (with optional English subtitles)
LABEL: OLIVE FILMS
TOTAL RUNNING TIME: 87 min
RATING: N/R
VIDEO: 1.37:1 Aspect Ratio; B&W
AUDIO: MONO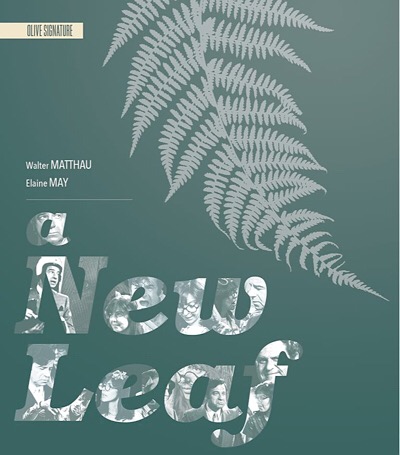 A NEW LEAF (1971)
OLIVE SIGNATURE FEATURES
New restoration from 4K scan of original camera negative
Audio commentary by film scholar Maya Montanez Smukler
"The Cutting Room Floor: Editing A New Leaf" – interview with A New Leaf assistant editor Angelo Corrao
"Women in Hollywood: A Tragedy of Comic Proportions" – with director Amy Heckerling
Essay by critic, editor & film programmer Alexandra Heller-Nicholas
"The Green Heart" by Jack Ritchie, the source material for Elaine May's script
Trailer
A New Leaf, the deliciously dark and deadpan comedy from writer-director-comedian Elaine May (The Heartbreak Kid), stars Walter Matthau (The Odd Couple) as Henry Graham, who, due to his extravagant lifestyle, has run through his inheritance. After pleading with his incredulous Uncle Harry (played with lip-smacking glee by James Coco,Such Good Friends) for a loan, Henry convinces Uncle Harry to give him the money with the proviso that the loan must be repaid within six weeks or Henry will forfeit all of his property used as collateral. With the aid of his gentleman's gentleman, Harold (a scene-stealing George Rose, The Pirates of Penzance), Henry decides to marry into wealth, and once the vows have been taken he'll decide how to handle getting out of the marriage. Enter wealthy heiress Henrietta Lowell (May), a klutzy botanist and the woman of Henry's get-rich-quick-scheme dreams. But as best laid plans often go, Henry must weather the obstacles placed in his path not only by his Uncle Harry, but by Andy McPherson (Jack Weston, Wait Until Dark), Henrietta's jealous and unscrupulous lawyer. Adding to the amusement are William Redfield (One Flew Over the Cuckoo's Nest) as Beckett, Henry's bemused, put-upon lawyer and Doris Roberts (TV's Everybody Loves Raymond) as Mrs. Traggert, Henrietta's pilfering housekeeper.
Upon its 1971 theatrical release, Roger Ebert of the Chicago Sun-Times wrote that A NewLeaf was "One of the funniest movies of our unfunny age," "hilarious, and cockeyed, and warm." Prescient comments indeed.
WALTER MATTHAU (Hello, Dolly!; The Odd Couple; California Suite)
ELAINE MAY (California Suite, Small Time Crooks, Enter Laughing)
JACK WESTON (Ishtar, Wait Until Dark, Dirty Dancing)
GEORGE ROSE (The Pirates of Penzance, Hawaii, A Night to Remember)
JAMES COCO (Such Good Friends, Man of La Mancha, Murder by Death)
WILLIAM REDFIELD (One Flew Over the Cuckoo's Nest, Such Good Friends, Death Wish)
DORIS ROBERTS (TV's Everybody Loves Raymond, Hester Street, National Lampoon's Christmas Vacation)
Directed by ELAINE MAY (The Heartbreak Kid, Ishtar, Mikey and Nicky)
YEAR: 1971
GENRE: COMEDY
LANGUAGE: ENGLISH (with optional English subtitles)
LABEL: OLIVE FILMS
TOTAL RUNNING TIME: 102 mins
RATING: G
VIDEO: 1.85:1 Aspect Ratio; COLOR
AUDIO: MONO