Bugs Bunny was not Warner Brothers' first animated superstar.  Five years prior to the creation of the wascally wabbit, a stuttering pig without any pants put Looney Tunes on the map.  Later this year, the studio will celebrate its portly sensation with a 5-disc DVD collection of Porky Pig's first 101 shorts in chronological order.
Here are the details on this monumental, forthcoming release from the Warner Archive Facebook page: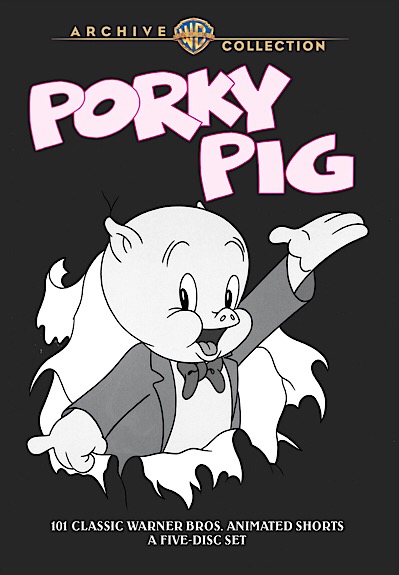 PORKY PIG 101 (1935-1943) New on DVD
Run Time 743:00
MONO – English
4 X 3 FULL FRAME, ORIGINAL ASPECT RATIO – 1.37:1
99 CARTOONS in BLACK & WHITE plus 2 CARTOONS in COLOR
A 5 DISC DVD COLLECTION
Special Features: Commentaries on Select Shorts
That's NOT all, folks! Warner Bros. first cartoon superstar, everyone's favorite pantless porcine, Porky Pig, takes center stage. From his humble beginnings as the breakout star of a schoolhouse talent show in I Haven't Got a Hat to his slimmer, slaphappy sidekick stage alongside Daffy Duck in Porky Pig's Feat, across Merrie Melodies and Looney Tunes, in two-strip Technicolor® and scintillating black and white, Porky's ascent from rascally school gang member to superstar spokespig is fully on display in this 5-disc, 101-cartoon (plus some bonuses) collection. Presented in chronological order, with key commentaries by noted animation scholars and superfans on select shorts of significance, this tome contains all the 'toons you need to become a true professor of Porky Pig-ology.