San Diego Comic-Con is in full swing, and that means panels that yield announcements of Blu-rays and DVDs that we can look forward to in upcoming months.  Last night, Shout Factory revealed titles for it's Shout Select and Scream Factory imprints that we should see later this year or early 2018.
Shout's official announcements are below, but let me interject that I am over the moon that we will be getting a U.S. Blu-ray of Joe Dante's most personal film, Matinee (1993)!  It's one of my favorite films of the 90's and a "day one" purchase for me.
Okay…  Take it away, Shout! 
From SHOUT SELECT (expected later 2017):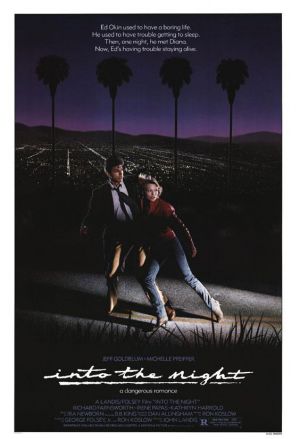 INTO THE NIGHT (1985) – John Landis will be involved in this blu-ray release of his film about an insomniac (Jeff Goldblum) who gets involved with a woman on the run (Michelle Pfieffer) over one crazy night.
MATINEE (1993) – John Goodman is the William Castle-inspired movie promoter Lawrence Woolsey, who brings his unique brand of flashy showmanship to the unsuspecting residents of Key West, Florida during the Cuban Missile Crisis.
MAC AND ME (1988) – An alien trying to escape from NASA is befriended by a wheelchair-bound boy in this feature-length commercial for McDonald's.
THE PLAGUE DOGS (1982) – The animated adaption of the Richard Adams novel.  Two dogs escape from a laboratory and are hunted as possible carriers of the bubonic plague.

And From SCREAM FACTORY: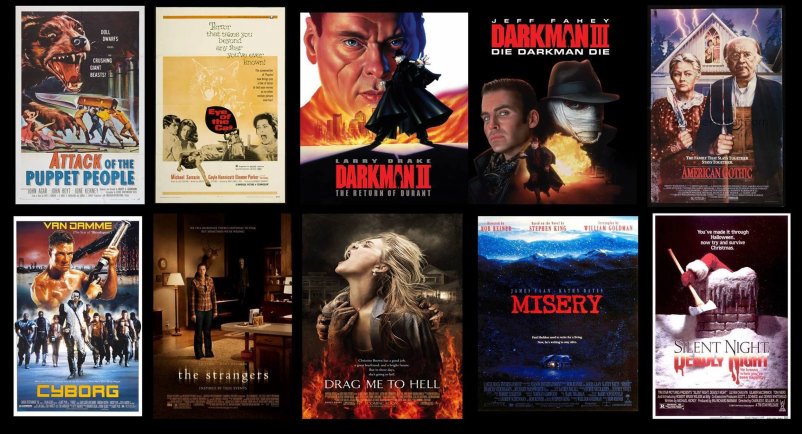 ***BIG ANNOUNCEMENT OF UPCOMING TITLES!***
We just revealed the following upcoming Scream Factory Blu-ray releases at our Comic Con panel this evening. Here's the line-up that will be coming soon to you in Nov and early 2018:
SILENT NIGHT DEADLY NIGHT (Collector's Edition) (1984) – Ho Ho Horror! The anti-holiday slasher cult classic favorite is being prepped for release before Christmas.
MISERY (Collector's Edition) (1990) – Hide the sledgehammers! Stephen King and Rob Reiner's iconic classic receives the deluxe treatment it rightfully deserves.
DRAG ME TO HELL (Collector's Edition) (2009) – We go more in-depth into Sam Raimi's wildly-entertaining and wicked soul-cursing hit film.
THE STRANGERS (Collector's Edition) (2008) – One of the scariest film ever in the "home invasion" subgenre gets an upgrade ahead of its planned 2018 sequel.
CYBORG (Collector's Edition) (1989) Martial arts legend Jean-Claude Van Damme battles evil in this late 80s post-apocalyptic sci-fi thriller.
AMERICAN GOTHIC (1988) – Often-requested quasi slasher film starring Rod Steiger and Yvonne DeCarlo. From the Director of The Legend of Hell House.
DARKMAN II (1995) & DARMAN III (1996) – First time on Blu-ray! Both star Arnold Vosloo. Jeff Fahey appears in III. Official street dates for both are 11/7/17. Extras are in progress and will be announced at a later date. If you pre-order now directly from our website you'll get it two weeks earlier! Darkman II: https://www.shoutfactory.com/product/darkman-ii-the-return-of-durant & Darkman III: https://www.shoutfactory.com/product/darkman-iii-die-darkman-die
EYE OF THE CAT (1969) – From the Screenwriter of Psycho and stars Eleanor Parker. First time on a home entertainment format!
ATTACK OF THE PUPPET PEOPLE (1958) – From Bert I. Gordon. First time on Blu-ray! Official street date is 11/14/17. If you pre-order now directly from our website @ https://www.shoutfactory.com/product/attack-of-the-puppet-people you'll get it two weeks earlier!
We have no other details to report on this time.
BTW, we have even MORE good stuff planned for end of the year and into 2018, we just can't announce everything all at once.