Who wants to see a zombie movie starring Phyllis Diller and Norman Fell?  Well, I certainly do.  Throw in a monster poodle, and I'm completely sold.
Code Red DVD will release the cult horror-comedy The Boneyard (1991) on Blu-ray on April 3rd, through a distribution partnership with Kino Lorber.  The Amazon preorder page is already up HERE
.
Here are the full details on this intriguing upcoming release: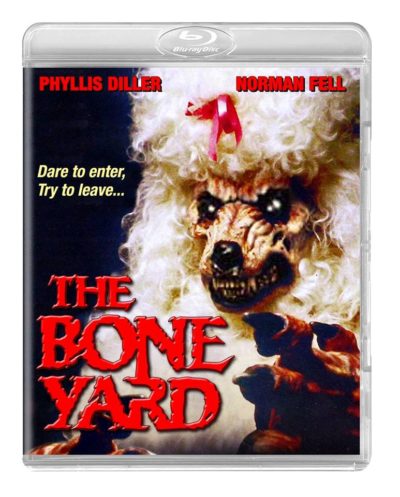 Coming April 3rd!
From Code Red DVD!
The Boneyard (1991)
Description:
A policeman (Ed Nelson) and a psychic (Deborah Rose) link cult mayhem to a morgue (run by Norman Fell) where ancient ghouls are on the loose. The film plunges into the nightmarish experiences of a portly, depressed psychic (Deborah Rose), whose involvement in a grisly child-murder case leads her and her detective partner (Ed Nelson) to an imposing, fortress-like mortuary. Chen the owner of the funeral home and prime suspect in the case, claims the three mummified corpses in question are not children but ancient demons known as Kyoshi . It seems the little monsters have been around for centuries as a result of an age-old curse and can only be placated with offerings of human flesh with which the mortician has been supplying them his entire life. When Chen is jailed on murder charges, the under-fed ghouls awaken in search of dinner, trapping the staff inside the mortuary walls and devouring them. The survivors, including Rose and Nelson, use every means at their disposal to combat the demons, which have possessed the bodies of morgue attendant Mrs. Poopinplatz (Phyllis Diller) and her poodle, mutating them into hideous monsters.
Special Features:
New HD Restoration from the Original Negative – Financed by Code Red's Credit Card
Extensive Color Correction exclusive to the Code Red release version
Uncompressed LPCM Stereo Soundtrack
Audio Commentary with Director James Cummins and Producer Richard F. Brophy
Interviews With Actress Phyllis Diller, Director James Cummins and Producer Richard F. Brophy
BRAND NEW Exclusive to Code Red Version, Interview with Producer Phil Smoot and Crew Members From North Carolina
Reversible Sleeve with Alternate Artwork
Distributed by Kino Lorber!