TV manufactures may have abandoned the 3-D format, but that hasn't stopped boutique video labels from releasing blu-ray titles in three (count em' three) dimensions.  This week, Kino Lorber Studio Classics announced that they were teaming with the 3-D Film Archive to release one of the most sought-after titles of the classic 3-D era.  William Cameron Menzies' The Maze (1953) will be restored for a blu-ray release expected to market this fall.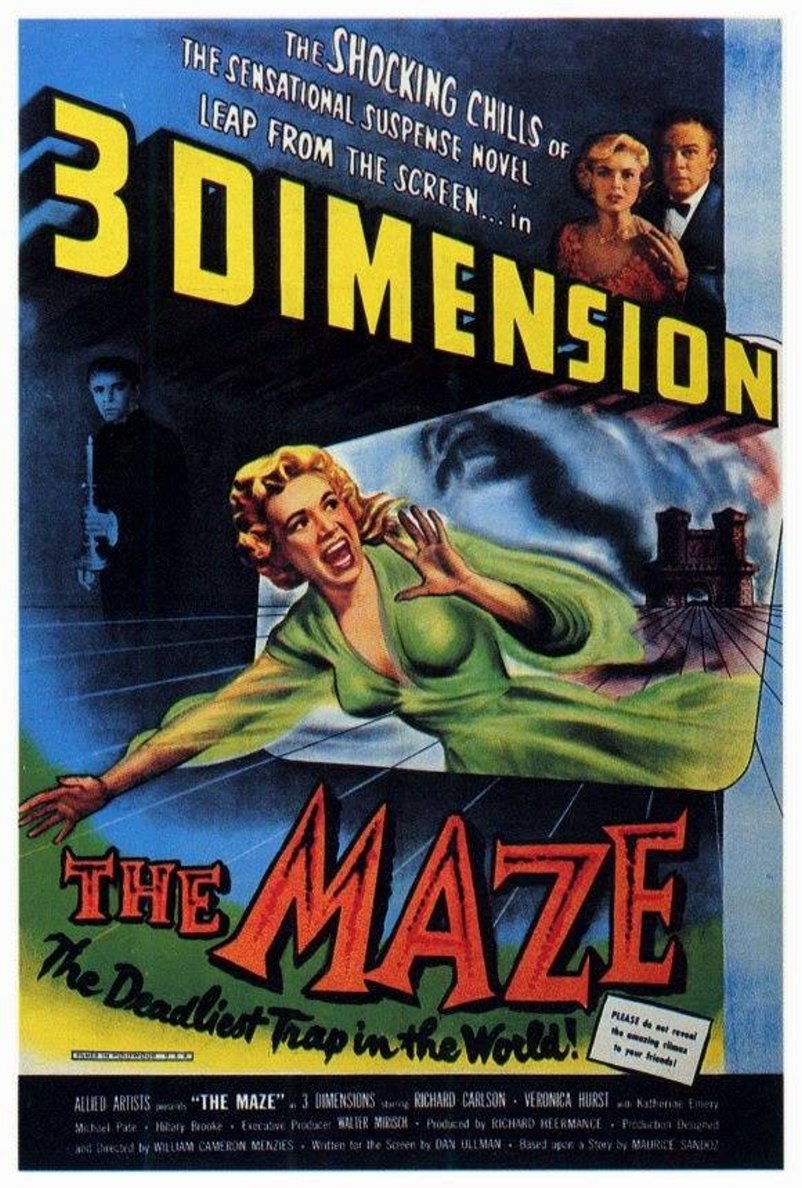 Here is the description of the upcoming release from Kino Lorber Studio Classic's Facebook Page:
Coming Soon on 3-D/Blu-ray and DVD!
3-D Restoration by 3-D Film Archive, LLC!
The Maze (1953) Starring Richard Carlson, Veronica Hurst, Katherine Emery, Michael Pate, Hillary Brooke, Lilian Bond and Robin Hughes – Shot by Harry Neumann (The Wasp Woman) – Directed by William Cameron Menzies (Invaders from Mars, Things to Come. Chandu the Magician)
THE MAZE has been referred to as "A dark fable… invaluably unique for its era" (Jeff Kuykendall, Midnight Only) and "One of the damnedest films ever made… surprisingly moving" (Bill Warren, Keep Watching the Skies!). These assessments are on the mark and only begin to describe one of the most intriguing 3-D movies ever made.
William Cameron Menzies' unique visual style produced one of the most stunning three-dimensional productions of all time. While other 3-D movies can boast higher budgets and more prestigious pedigrees, none can equal its inspired mix of mystery, science fiction and Lovecraftian horror.
One of the most highly desired 3-D films, THE MAZE will be restored from original 35mm left/right archival elements by Kino Lorber Studio Classics and the 3-D Film Archive!
The stereoscopic image restoration will be handled by Archive technical director Greg Kintz; dirt and damage cleanup will be done by digital artist Thad Komorowski and the lost three-channel stereophonic sound will be restored by audio engineer Eckhard Büttner.
The restored MAZE will amaze you!
An In-Depth Look at THE MAZE by Ted Okuda
http://www.3dfilmarchive.com/the-maze
Trailer
https://www.youtube.com/watch?v=11Abs028a7w&feature=youtu.be