Attention, Euro-Western fans,

Hen's Tooth Video plans to release the tremendously popular Spaghetti Western comedies They Call Me Trinity (1970) and Trinity Is Still My Name (1971), starring the Italian Laurel and Hardy team of Terence Hill and Bud Spencer, as a twin-pack blu-ray on August 29th!  Below is the description of the package directly from their website, along with the pre-order link: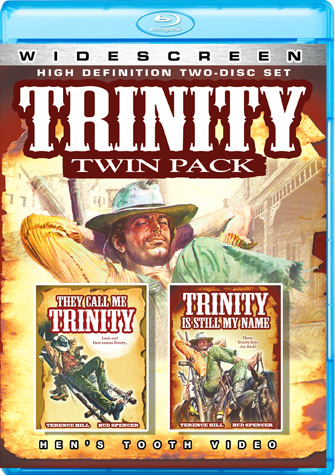 Trinity Twin Pack
Hen's Tooth Video proudly presents two of the most successful Spaghetti Westerns ever made for the first time now on Blu-ray in a 2-disc set. Terence Hill (Mario Girotti) and Bud Spencer (Carlo Pedersoli) star in these wildly popular spoofs of the Italian western genre. They Call Me Trinity and Trinity Is Still My Name are presented here in their theatrically correct widescreen ratios, remastered in 1080p high definition.  These comedies paved the way for Mel Brooks' Western send-up Blazing Saddles and made international superstars out of the team of Hill and Spencer, ushering in a twenty-five year association for the two actors. Sit back and enjoy a double dose of Western comedy, Italian style!
Suggested Retail: $29.95 UPC#: 759731711128