The Criterion of cult, Arrow Video, posted their April Blu-ray announcements this morning, including an unexpected (but welcome) American release of their limited-edition restoration of Dario Argento's Deep Red (Profondo Rosso, 1975).  Being that Arrow is a British company, keep in mind that not all of their titles will be released both in the U.K. and the U.S., due to distribution rights. However, Arrow always makes it perfectly clear which Blu-rays will be offered in both the U.K. and U.S. versus which ones are U.K. only.
Listed below are the disc descriptions directly from the Arrow Video Facebook page: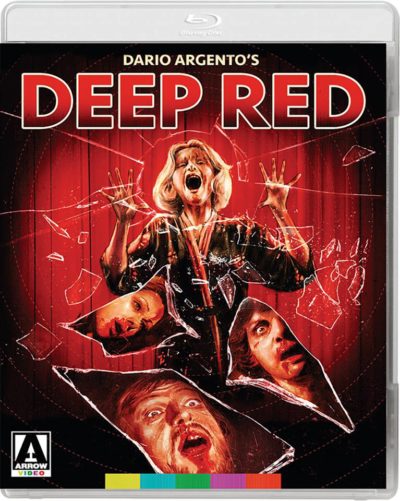 NEW US / CANADA TITLE: Deep Red (Limited Edition Blu-ray)
From Dario Argento comes Deep Red – the ultimate giallo movie.
Release date: 10th April 2018
From Dario Argento, maestro of the macabre and the man behind some of the greatest excursions in Italian horror (Suspiria, The Bird with the Crystal Plumage), comes Deep Red – the ultimate giallo movie.
One night, musician Marcus Daly (David Hemmings, Blow Up), looking up from the street below, witnesses the brutal axe murder of a woman in her apartment. Racing to the scene, Marcus just manages to miss the perpetrator… or does he? As he takes on the role of amateur sleuth, Marcus finds himself ensnared in a bizarre web of murder and mystery where nothing is what it seems…
Aided by a throbbing score from regular Argento collaborators Goblin, Deep Red (aka Profondo Rosso and The Hatchet Murders) is a hallucinatory fever dream of a giallo punctuated by some of the most astonishing set-pieces the sub-genre has to offer.
2-DISC LIMITED EDITION CONTENTS:
High Definition Blu-ray (1080p) presentation of two versions of the film
Original Italian soundtrack in lossless DTS-HD MA mono 1.0
Optional surround sound remix of the Italian soundtrack in lossless DTS-HD MA 5.1
Original English soundtrack in lossless DTS-HA MA mono 1.0*
English subtitles for the Italian soundtrack
Optional English subtitles for the deaf and hard of hearing for the English soundtrack
6 postcard-sized lobby card reproductions
Reversible fold-out poster featuring two original artworks
Reversible sleeve featuring original and newly commissioned artwork by Gilles Vranckx
Limited Edition booklet featuring new writing on the film by Mikel J. Koven, author of La Dolce Morte: Vernacular Cinema and the Italian Giallo Film, and an archival essay by Alan Jones, illustrated with original archive stills
DEEP RED: ORIGINAL VERSION (BLU-RAY DISC 1):
Brand new restoration from a 4K scan of the original negative
Audio commentary by filmmaker and Argento expert Thomas Rostock
Introduction to the film by Claudio Simonetti of Goblin
Profondo Giallo, a new visual essay by Michael Mackenzie featuring an in-depth appreciation of Deep Red, its themes and its legacy
Rosso Recollections: Dario Argento's Deep Genius – the Deep Red director on the creation of a giallo masterpiece
The Lady in Red: Daria Nicolodi Remembers Profondo Rosso
Music to Murder For! Claudio Simonetti on Deep Red
Profondo Rosso: From Celluloid to Shop – a tour of the Profondo Rosso shop in Rome with long time Argento collaborator Luigi Cozzi
Italian theatrical trailer
DEEP RED: EXPORT VERSION (BLU-RAY DISC 2) [LIMITED EDITION EXCLUSIVE]:
Brand new restoration from a 4K scan of the original negative
US theatrical trailer
* The English audio track on the original, longer cut has some portions of English audio missing. English audio for these sections was either never recorded or has been lost. As such, these sequences are presented with Italian audio, subtitled in English.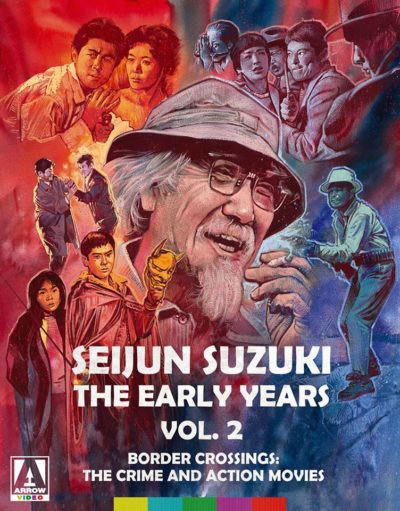 NEW UK / US / CANADA TITLE: Seijun Suzuki: The Early Years Vol. 2. Border Crossings: The Crime and Action Movies (Limited Edition Dual Format)
Boundary-breaking early crime thrillers, Mob Dramas and action movies from legendary cult director Seijun Suzuki.
Release date: 16th April 2018 (UK) / 17th April 2018 (US)
Includes: Eight Hours of Terror (1957), The Sleeping Beast Within (1960), Smashing the 0-Line (1960), Tokyo Knights (1961), The Man with a Shotgun (1961).
Available for home-viewing for the very first time ever outside of Japan, this collection of bleak crime thrillers, brash mob dramas and exuberant action movies, made across the first five years of Seijun Suzuki's career within Nikkatsu's Borderless Action (mukokuseki akushon) line, presents a heady mix that laid the ground for what was to come.
The Sleeping Beast Within (1960) is a gripping crime thriller that sees a newspaper reporter's search for his girlfriend's missing father lead him into heart of the criminal underworld of Yokohama's Chinatown. Its companion piece, Smashing the 0-Line (1960), follows two reporters' descent into a scabrous demimonde of drug and human trafficking. In Eight Hours of Terror (1957), a bus making its precarious way across a winding mountain road picks up some unwelcome passengers. In Tokyo Knights (1961), a college student takes over the family business in the field of organised crime, while The Man with A Shotgun (1961) marks Suzuki's first entry into the territory of the "borderless" Japanese Western.
LIMITED EDITION CONTENTS:
Limited Edition Dual Format Collection [1500 copies]
High Definition Blu-ray (1080p) and Standard Definition DVD presentations
Newly translated optional English Subtitles
Audio commentary by critic and author Jasper Sharp on Smashing the 0-Line
Tony Rayns on the Crime and Action Movies – the critic and historian discusses the background to the films, their place within Suzuki's career and the talent involved with them
Trailers
Stills Gallery
Reversible sleeves featuring original and newly commissioned artwork by Graham Humphreys
60-page illustrated collector's book featuring new writing by Jasper Sharp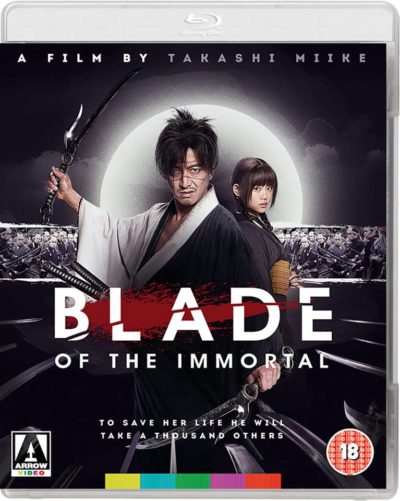 NEW UK TITLE: Blade of the Immortal (DVD, Blu-ray, HMV exclusive and Ltd Ed Steelbook & EST)
Arrow Video is proud to present Blade of the Immortal, the thrilling, action-packed 100th feature from the Japanese master of genre films, Takashi Miike (Audition, 13 Assassins).
Based on the Manga series of the same name by Hiroaki Samura, Blade stars Takuya Kimura (Love and Honour) as Manji, a highly skilled samurai, who becomes cursed with immortality after a legendary battle. Haunted by the brutal murder of his sister, Manji knows that only fighting evil will regain him his soul. He promises to help a young girl named Rin (Hana Sugisaki) avenge her parents, who were killed by a group of master swordsmen led by ruthless warrior Anotsu (Sôta Fukushi). The mission will change Manji in ways he could never imagine…
This blistering samurai film matches impressive performances with an impossibly high body-count and expertly-filmed scenes of combat. Blade is set to become one of its director's most revered films, and is presented here by Arrow Video with a wealth of special features.
STEELBOOK SPECIAL EDITION CONTENTS:
Limited Edition Steelbook (4,000 copies)
High Definition Blu-ray (1080p) presentation
Original 5.1 DTS-HD Master Audio (Blu-ray)
Optional English subtitles
Takashi Miike on Blade of the Immortal, a new interview with the legendary director filmed exclusively for Arrow Video at the 2017 London Film Festival
Audio commentary by Asian cinema expert Tom Mes
Manji vs 100, Manji vs. 300, behind the scenes featurettes documenting the shooting of the film's thrilling opening and climactic fight scenes
Extensive cast interviews filmed on the set during production
Stills gallery
Original trailers
Illustrated collector's booklet featuring new writing on the film by Anton Bitel
BLU-RAY SPECIAL EDITION CONTENTS:
High Definition Blu-ray (1080p) presentation
Original 5.1 DTS-HD Master Audio (Blu-ray)
Optional English subtitles
Takashi Miike on Blade of the Immortal, a new interview with the legendary director filmed exclusively for Arrow Video at the 2017 London Film Festival
Audio commentary by Asian cinema expert Tom Mes
Manji vs 100, Manji vs. 300, behind the scenes featurettes documenting the shooting of the film's thrilling opening and climactic fight scenes
Extensive cast interviews filmed on the set during production
Stills gallery
Original trailers
Reversible sleeve featuring Arrow Films theatrical poster art and original artwork
Illustrated collector's booklet featuring new writing on the film by Anton Bitel
DVD SPECIAL EDITION CONTENTS:
Standard Definition DVD presentation
Original 5.1 surround sound
Optional English subtitles
Takashi Miike on Blade of the Immortal, a new interview with the legendary director filmed exclusively for Arrow Video at the 2017 London Film Festival
Audio commentary by Asian cinema expert Tom Mes
Stills gallery
Original trailers
Reversible sleeve featuring theatrical poster art and original artwork