Bonjour, cineastes,
Today, we received wonderful news for fans of romantic comedies.  Kino Lorber Studio Classics announced that they will release Billy Wilder's candy-colored confection Irma La Douce (1963) on Blu-ray from a new 4K scan and restoration!  The release date and special features will be announced at a later date, but it's just great to hear that this is in the works.
Here's the extremely brief announcement from the Kino Lorber Studio Classics Facebook page: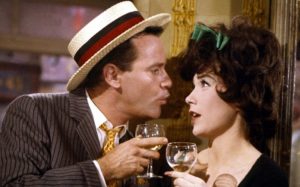 Coming Soon!
Brand New 4K Restoration!
Irma La Douce (1963) Starring Jack Lemmon, Shirley MacLaine, Lou Jacobi, Bruce Yarnell and Herschel Bernardi – Shot by Joseph LaShelle (Marty) – Music by André Previn (Elmer Gantry) – Screenplay by Billy Wilder and I.A.L. Diamond (One Two Three) – Produced and Directed by Billy Wilder (Witness for the Prosecution).