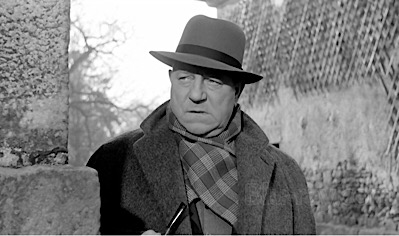 Kino Lorber announced that they will release two classic French-language mysteries, Maigret Sets a Trap (1958) and Maigret and the St. Fiacre Case (1959) on Blu-ray on December 5th.  Both star the great Jean Gabin as Georges Simenon's popular, fictional police commissioner.
Inspector Jules Maigret, is one of the most beloved characters in the history of detective fiction.   Between 1930 and 1972, the fictional police detective appeared in 76 novels and 28 short stories by Georges Simenon, but the printed page could not contain the character.  During Simenon's lifetime, the gruff, broad shouldered sleuth made the leap to film, television, and comics.
One of the actors most associated with the role was French superstar Jean Gabin, who played the part in three films.  It is the first two films of that series that are coming from Kino (and with some particularly beautiful covers):
Synopsis: Inspector Maigret tries to trap a killer and discovers why a happily married, wealthy, and talented man should want to bump off women at night. Jean Gabin is perfect as Georges Simenon's secure and steady sleuth, and old-hand Jean Delannoy expertly keeps up the pace and suspense in this enjoyable whodunnit. Based on the novel by Georges Simenon. NEW DIGITAL RESTORATION.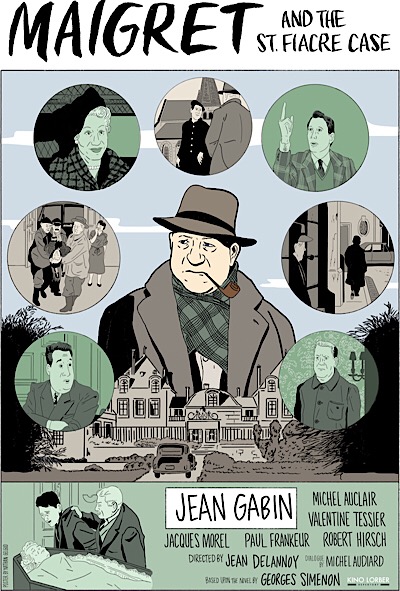 Maigret & St Fiacre Case [Blu-ray]
Synopsis: Inspector Maigret is summoned by the Countess to the Château de Saint-Fiacre, where she shows him a letter she has received predicting the day on which she will die. Based on the novel by Georges Simenon. NEW DIGITAL RESTORATION.