Euro-horror Fans,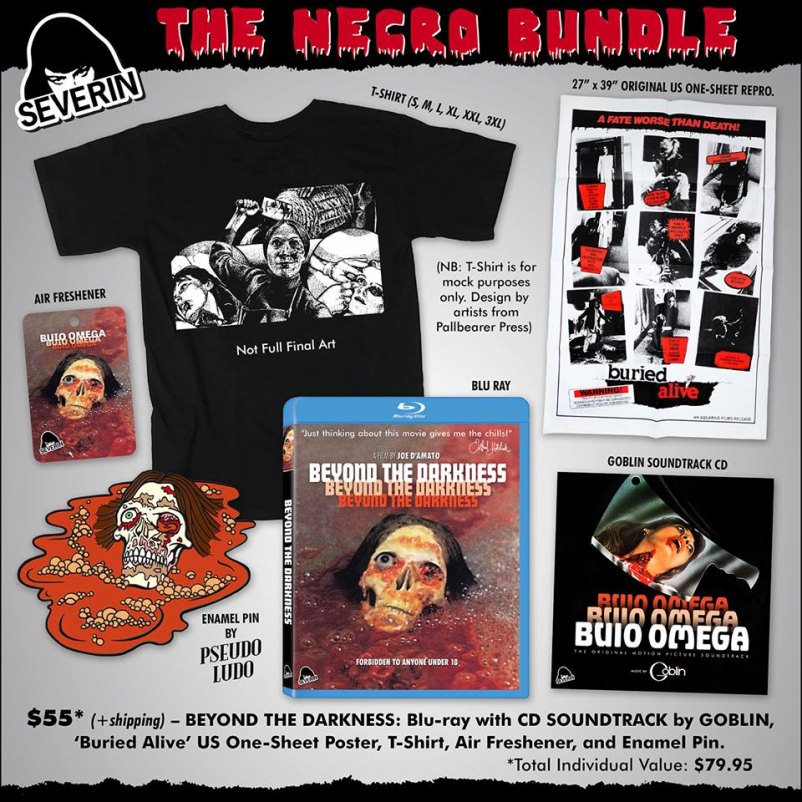 Yesterday, Severin Films announced that they would be releasing Joe D'Amato's 1979 Italian gross-out Beyond the Darkness on blu-ray on July 25th.  Quickly, thereafter, they detailed a special Necro Bundle on their Facebook page.  Below is the description of the special package of limited-edition extras.  You don't usually see a bundle like this for a Euro-cult release.  Check it out:
The NECRO-bundle! BEYOND THE DARKNESS Special Edition Blu-ray with Limited Edition Remastered Goblin Soundtrack CD, 'BURIED ALIVE' US One-Sheet Poster Repro (27″x39″), T-Shirt with New Pallbearer Press Design, Enamel Pin By Pseudo Ludo and BUIO OMEGA Air Freshener to cover those unfortunate odors…
Only $55* the lot (+ shipping) at Severin-films.com Store
And here is the description of the blu-ray itself:

FINALLY! THE FULLY UNCENSORED VERSION OF
BEYOND THE DARKNESS – THE ULTIMATE EXTREME SHOCKER –
HITS BLU RAY FROM SEVERIN FILMS
FIRST 2500 WITH BONUS REMASTERED GOBLIN SOUNDTRACK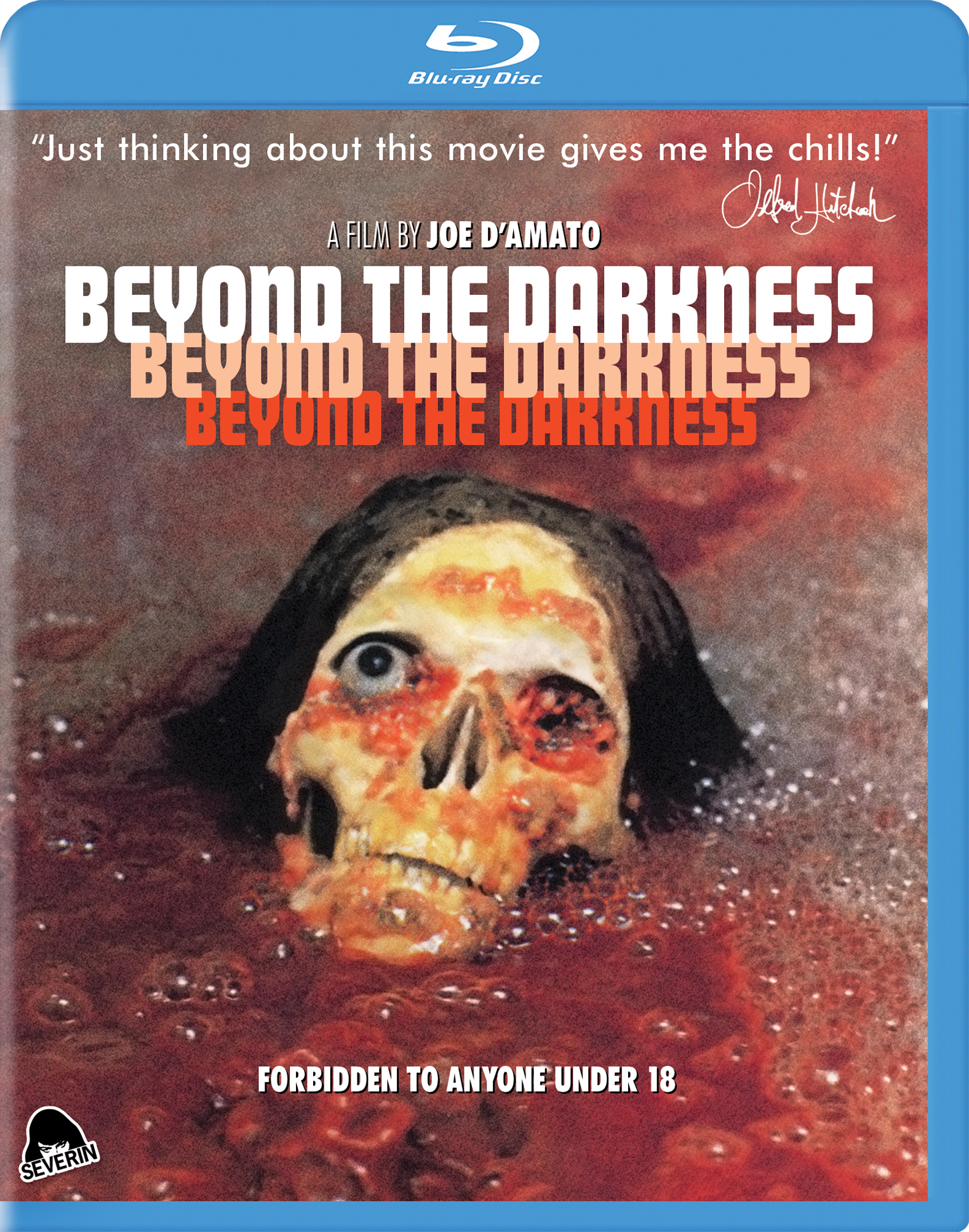 Corpses need love too. This is one of the unassailable truths of modern living. Leave it to model citizen and passionate cineaste Joe D'Amato to lend the delicate subject of necrophilia the dignified touch it deserves with BEYOND THE DARKNESS. On July 25th, Severin Films is honored to bring this classic back into the light of day, newly restored and fully uncut.
It has been denounced as "revolting" (SplatterDay.com), "stomach-churning" (Classic-Horror.com) and "shower-prompting" (Fandor), while simultaneously acclaimed as "bone-chilling" (Chas Balun), "truly classic" (The Spinning Image) and "a must-see" (Horror.com). Now experience "D'Amato's masterpiece" (BloodyDisgusting.com) like you've never seen or heard it before: CinzIa Monreale (THE BEYOND) and Franca Stoppi (THE OTHER HELL) star in this psycho-sexual sickie featuring torture, cannibalism, necrophilia, unrequited love and other perversions, totally uncensored and set to a pounding score by Goblin. Severin is proud to present the "ultra-graphic sleaze-fest" (Fright.com) also known as BURIED ALIVE and BUIO OMEGA – for which director Joe D'Amato (ANTHROPOPHAGUS) was infamously accused of using real corpses – intact, restored and packed with exclusive new Special Features.
Available in a standard edition, as well as a limited collector's edition blu-ray that comes packaged with the Original Soundtrack By Goblin, which has been Newly Remastered In Rome By Italian Soundtrack Restoraton Maestro Claudio Fuiano using original vault materials. Customers who pre-order from the Severin webstore can also pick up the Necro Bundle, containing the new edition of the movie along with the soundtrack, an air freshener to cover up that unfortunate corpse smell, a reproduction of the original US one sheet poster (full-size 27×39) under the alternate title BURIED ALIVE, a new enamel pin designed by Pseudo Ludo, AND a new t-shirt from Pallbearer Press. Fans of the film will love this bundle to death and are encouraged to act now while supplies last!
 Special Features
Joe D'Amato: The Horror Experience
The Omega Woman: Interview With Actress Franca Stoppi
Sick Love – An Interview With Actress Cinzia Monreale
Goblin Reborn Perform Buio Omega Live 2016
Locations Revisited
Trailer
Color | 1979 | 94 min. | All Region