Greetings, giallo junkies,
Put on your black gloves, and pour yourself a glass of J&B.  Code Red has dated and detailed their previously announced Blu-ray release of Umberto Lenzi's Seven Blood-Stained Orchids (1972).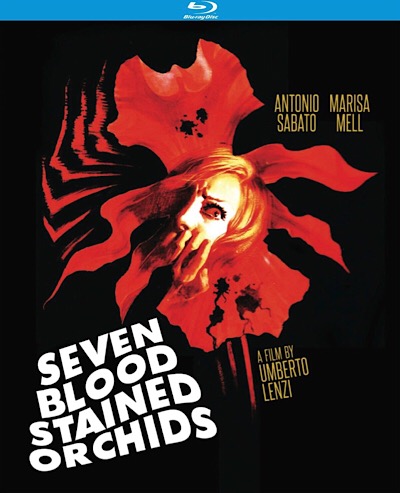 I haven't seen this one, but I hear it's one of Lenzi's best films, and I'm overjoyed to see that Code Red will include the subtitled Italian audio track, along with the English dub.  As a giallo fan, I plan to pick this up day one!
Here are the details, as posted to the Kino Lorber Studio Classics Facebook Page:
Coming January 2nd on Blu-ray From Code Red DVD!
Brand New 2017 HD Master!
Distributed by Kino Lorber!
Seven Blood Stained Orchids (1972) with optional English subtitles
Special Features:
Includes both English and Italian Audio Tracks
Brand New Interview With Director Umberto Lenzi
Brand New Audio Commentary By Film Historian Troy Howarth
Vintage Interview With Umberto Lenzi And Gabriella Giorgelli
Original Theatrical Trailer