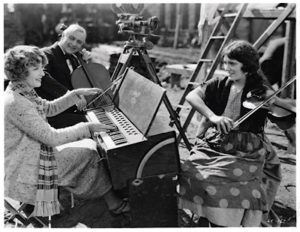 The treasures of our rich film heritage are quickly turning to dust. Fifty percent of the films made before 1950 are lost forever, and resources are limited to save those that remain. Each year, in an effort to add a bit to those resources, the Mont Alto Motion Picture Orchestra website produces a Silent Movies Calendar. The calendar features film stills and informal photographs of silent film stars donated by collectors and institutions; and all of the proceeds (after printing costs) are used to benefit silent film restoration.
The 2018 Calendar is now available. This year, the theme is "Music is Half the Picture," focusing on music in silent film.  In addition to the silent cinema artwork, the calendar features birthdays of silent-era film stars and personalities, as well as notable marriages, deaths, film openings, and other significant dates.
The calendar plus postage is just $16.30; so just click on the link below already, and buy the dern thing!
Get it here–> 2018 Silent Movies Calendar