They say that physical media is dying, but I don't think it will ever truly die.  Large studio labels may eventually decide that it isn't worthwhile to continue producing DVDs, Blu-rays, and 4K UHD discs; but smaller labels, with their pulse on the collector's market, will continue to cater to their niche audience.  Boutique labels are currently flourishing, and another player has just joined the fray.
MVD Entertainment Group announced today that they are starting a new boutique label for collectors by collectors.  They plan to debut the "MVD Rewind Collection" in December with the punk rock documentary D.O.A.: A Right of Passage
(previously unreleased on disc), followed in January with the cult classic Attack of the Killer Tomatoes
. Both will be slip-cased Blu-ray + DVD collector's sets.
When it comes to boutique labels, I say, "The more the merrier," and the MVD Rewind Collection sounds right up my alley.  Here is the full press announcement:
MVD Entertainment Group Debuts the
MVD REWIND COLLECTION With Collector's Sets Of
"D.O.A.: A Right Of Passage" and "Attack Of The Killer Tomatoes"
MVD Entertainment Group is proud to announce the launch of the "MVD Rewind Collection" series celebrating "cult classics and more from the video store" in special edition Blu-ray + DVD collector's sets loaded with special features.
Scheduled to debut December 2017, the MVD Rewind Collection will launch with special editions of the never-before-released-on-disc punk rock doc classic D.O.A.: A Right of Passage along with Attack of The Killer Tomatoes on two-disc collector's sets.
MVD Rewind Collection #1 coming on December 8, 2017…
D.O.A.: A RIGHT OF PASSAGE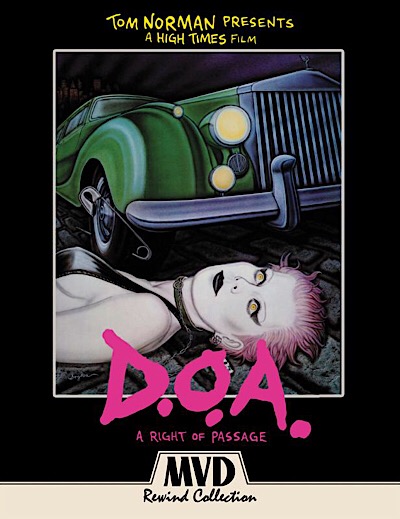 D.O.A.: A Right of Passage is the ground-breaking classic "rockumentary" about the origin of punk rock. Centered around the Sex Pistols 1978 tour of the United States which ended with the group breaking up, the tour was the only one the Pistols played in the United States.
Director Lech Kowalski (East of Paradise) followed the band with handheld cameras through the clubs and bars of their seven-city U.S. tour. Mixing this with footage of other contemporary bands, trends in the fashion capitals and punks of all shapes and colors, Kowalski captured a grainy, stained snapshot of the punk movement at its peak (which includes the now famous footage of Sid Vicious and Nancy Spungen in bed) along with rare interview and concert footage of the late seventies punk rock music scene.
With live performances by the Sex Pistols, The Dead Boys, Generation X (with Billy Idol), The Rich Kids, the X-Ray Spex, and Sham 69, along with additional music from The Clash and Iggy Pop, this iconic documentary is now available for the first time ever on home video in this 2-Disc set!
SPECIAL FEATURES
High Definition Blu-ray (1080p) and Standard Definition DVD presentation of the main feature.
Original 2.0 Mono Audio (Uncompressed PCM on the Blu-ray)
"Dead On Arrival: The Punk Documentary That Almost Never Was" – A feature length documentary about the making of D.O.A. A Rite of Passage produced by award-winning filmmaker (and former MTV Senior Producer) Richard Schenkman and featuring exclusive new interviews with PUNK magazine founder and Ramones cover-artist John Holmstrom, renowned music journalist Chris Salewicz, legendary photographer Roberta Bayley, Sex Pistols' historian Mick O'Shea, former Rich Kid guitarist and Ultravox lead singer Midge Ure, and original D.O.A. crew members David King, Mary Killen, Rufus Standefer, plus never-before-seen interview footage of Pistols founder, Malcolm McLaren. (HD)
12 page booklet with liner notes written by John Holmstrom, founding editor of PUNK Magazine
Reversible artwork
Rare Sex Pistols Photo Gallery
2-Sided Poster included
Original Theatrical Trailer (3:48, SD)
D.O.A.: A RIGHT OF PASSAGE
95 Minutes
ASPECT RATIO: 1.33:1 (4×3)
AUDIO: Mono
LANGUAGE: ENGLISH
ITEM# MVD0237BR
UPC: 760137023784
Street Date: 12/8/2017
MVD Rewind Collection #2 coming on January 23, 2018…
ATTACK OF THE KILLER TOMATOES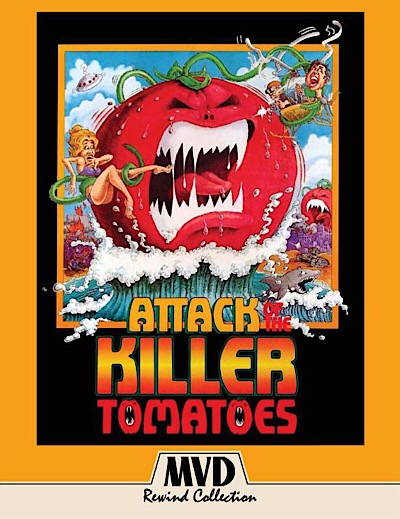 UFOs! Bigfoot! Communists! The government has swiftly dealt with many a crisis… But can it survive the diabolical ATTACK OF THE KILLER TOMATOES?
Just when you thought it was safe to go back in the supermarket, you're face to face with terror so bold, so frightening it has never been seen on-screen before or since (not until the sequel, anyway).
After a series of bizarre and increasingly horrific attacks from pulpy, red, seeded fruit, Mason Dixon (David Miller) finds himself leading a "crack" team of specialists to save the planet. But will they be quick enough to save everyone? To save you?
You can't run! You can't swim! There's nowhere to hide!
The killer tomatoes are everywhere!
SPECIAL FEATURES
High Definition Blu-ray (1080p) and Standard Definition DVD presentation of film (1.85:1)
Original 2.0 Mono Audio (Uncompressed PCM on the Blu-ray)
Audio commentary from writer/director John DeBello, writer/co-star Steve Peace and "creator" Costa Dillon
Deleted scenes (SD)
Six exclusive featurettes:
–        "Legacy of a Legend" (14:13, SD) is a collection of interviews, including comments from John DeBello, Costa Dillon, film critic Kevin Thomas, fans Kevin Sharp and Bruce Vilanch, future Tomatoes mainstay John Astin and actors Steve Peace, Jack Riley, and D.J. Sullivan
–        "Crash and Burn" (3:40, SD) is a discussion about the famous helicopter crash that could have killed everyone because the pilot was late on his cue
–        "Famous Foul" (2:21, SD) is about the San Diego Chicken and his role in the climatic tomato stomping ending
–        "Killer Tomatomania" (4:33, SD) is a smattering of interviews with random people on the streets of Hollywood about the movie
–        "Where Are They Now?" (2:51, SD) fills viewers in on what the cast and crew have been up to over the past couple of decades
–        "We Told You So!" (3:07, SD) takes a hard-hitting look at the conspiracy of silence surrounding the real-life horror of killer tomatoes
"Do They Accept Traveler's Checks in Babusuland" (the original 8mm short that inspired Attack of the Killer Tomatoes) (with optional audio commentary) (SD)
Original theatrical trailer (SD)
Radio spots
Collectible poster
ATTACK OF THE KILLER TOMATOES
RUNNING TIME: 87 Minutes
ASPECT RATIO: 1.85:1 (16×9)
AUDIO: MONO
LANGUAGE: ENGLISH
ITEM # MVD0703BR
UPC: 760137070382
Street Date: 1/23/2018
The MVD Rewind Collection is the brainchild of MVD Entertainment Group's Eric D. Wilkinson and the home entertainment team. Wilkinson not only manages acquisitions for MVD, but is also personally overseeing this new line of product for the company…
"Having spent the last year curating and pouring over every last excruciating detail of these releases, I'm really excited to share these with fellow collectors. Most of these will be on Blu-ray disc for the first time here in North America and some of these (like D.O.A.) have never been released on any format. Each of these numbered collector's edition sets will include plenty bonus material and supplemental features. Our plan here at MVD is to approach the "Rewind Collection" not just as packaged media releases, but also like the popular, collectible trend category. With video stores being a relic of the past, collectors are building their own libraries and are now basically turning their basements into their own, personal video stores. Our goal is to create something that you can display right alongside your action figures, posters, figurines and collectibles. We intend to use original artwork (either the theatrical or original VHS key art) on all of our releases whenever possible (unless it's really, really bad). Each release with have a limited-edition slipcover that will have a stylized, weathered look as if it's been sitting on a video store shelf for years, complete with wear and tear, stickers and more. In addition, our titles will include a four-fold mini poster of the cover art on the inside too. Most collectors like me, attend cons, autograph shows or horror conventions and it's nice to have a frame-ready poster to get signed. Some of our releases will include reversible artwork; some may have booklets with liner notes along other collectible goodies. And the MVD Rewind Collection isn't just focusing on one genre. The MVD Rewind collection will encompass ALL genres. If its "classic" (and I can get it) we'll try to put it out! I'm a dedicated collector of movies on disc, with over 8,000 plus discs in my collection and I want collectors to know that the MVD Rewind Collection Blu-ray + DVD sets are being overseen by a collector and I will do my best to create the kind of releases you will look forward to adding to your collection every month."