Rejoice, Euro-Western fans!  Sergio Corbucci's celebrated spaghetti Western, The Great Silence, considered by many to be the best of the genre not directed by Sergio Leone, will receive a much-delayed American theatrical release.  When the film was completed in 1968, Darryl F. Zanuck, the head of the distributor, 20th Century Fox, was so offended by the nihilism of the film that he refused to release it in the United States.  Today screendaily.com announced that Film Movement has acquired the North American distribution rights to the film.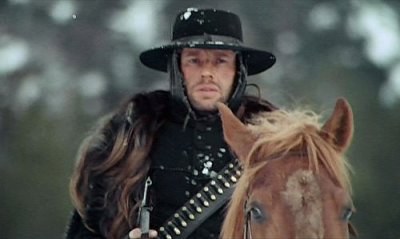 Film Movement plans to bring The Great Silence to American movie screens for a limited release in 2018, with a Blu-ray and digital release to follow!  Anyone who has seen Corbucci's dark, snowy Western will attest that it is an unforgettable experience.  Beyond that, I will leave it for you to discover, because it is a movie best experienced spoiler-free.  Let's just say that I will happily travel a distance to see this film on the big screen and the Blu-ray will be a "day one" purchase for me.
Thank you, Film Movement!!!
You can read the full story HERE.